4 Zhen can mean "thunder" or "tremor," depending on context (in modern Chinese, "earthquake" is dizhen, "earth thunder"). A clap of thunder can only be heard for a few miles, not hundreds, so this text probably describes an earthquake rather than a thunderstorm.
5 In ancient China people slept on mats, and beds were only used for convalescence. In this text a healing ceremony is being conducted. The character xun depicts two people kneeling, perhaps before an altar. By extension it means "humble, yielding."
6 The character li is composed of the "bird" classifier (on the right) and a "demon" on the left, meaning an ominous bird--perhaps an owl. Some scholars believe it is an eclipse that is being described here.
7 Kun is problematic because in the Zhouyi the character occurs only as the name of a hexagram. We are thus limited to the ideograph itself without further context. It is composed of the "earth" classifier and another component that can mean "spirit" or "basket."
8 In both the Shuowen (a Han dynasty dictionary) and the Shuogua commentary, the character dui is defined as shuo, "to explain" or "to persuade." From the full text of hexagram 58, dui has the extended meaning of "mediation."
9 Line 3 is the only line text of hexagram 1 that appears not to describe the seasonal migration of the Cerulean Dragon across the southern sky. But in fact the Confucian "gentleman" (deleted here) has crept into the text from the commentary tradition (by which time the astronomical significance of the dragon had been forgotten), and this line does indeed describe the dragon. The character qian is composed of "dawn" and "emerge" and originally meant "to ascend." All day long the dragon has been rising in the heavens, but at dusk when it is finally visible, it still is hindered from full flight. The rising dragon in the southeastern sky was the harbinger of spring, and full flight in the south was the height of summer. The "rising" of the dragon was what concerned the ancient diviners--the growth of yang energy to full strength. Eventually, to both the trigram and the hexagram of total yang, they appended the name, "rising in the heavens," and by extension, "Heaven."
10 The character gen is the mirror image of the pictograph jian, "to look at," and means "to turn the back on" or "to turn against." The Shuowen dictionary defines gen as "to oppose, disobey." By extension it means "to malign, injure."
The Textual Record
The greatest aid to establishing the original meaning for trigram names will be the oldest layers of the Yijing--the judgment texts (guaci) and line texts (yaoci). Eight hexagrams appearing in the Yijing are doubles of the trigrams in question, and the text of these hexagrams should preserve some of the original meaning of the trigram names. Excerpts from the eight hexagram texts corresponding to the eight trigram names are as follows (translations of gua names appearing in the texts are in red):
---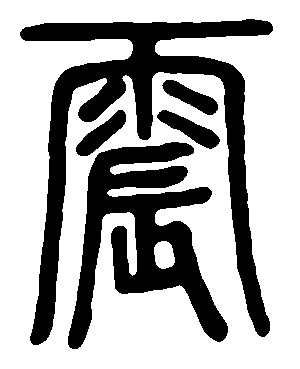 Hexagram 51. ZHEN Earthquake
When the tremor comes "creak-creak," afterwards there is laughter and talking "he-he." The quake4 alarmed hundreds of villages. Not a ladle was spilled of sacrificial wine. [judgment text]
---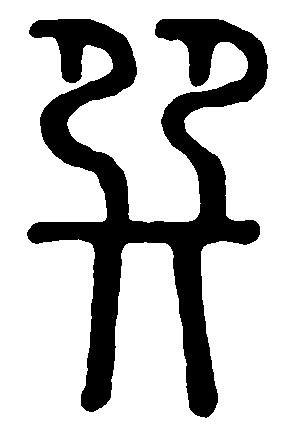 Hexagram 57. XUN Kneel
He knelt5 at the bed, and used a combination of diviners and sorcerors. Auspicious. No misfortune. [line 2]
---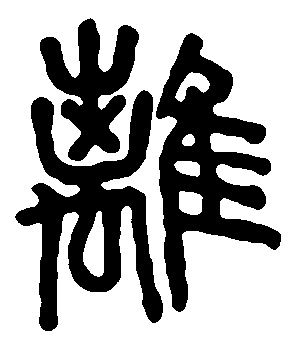 Hexagram 30. LI Bird of Omen
The Li-bird6 at sunset. Unless you beat an earthen pot and sing, your elders' sighs will be substantial. Ominous. [line 3]
---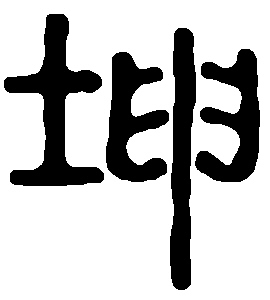 Hexagram 2. KUN Earth7
[No instance of the word kun occurs in the judgment or line texts]
---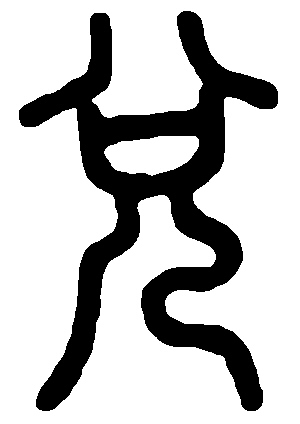 Hexagram 58. DUI Mediate8
Peace talks. Auspicious. [line 1]

Deliberation and discussion. No peace as yet. Great urgency. There will be joy. [line 4]
---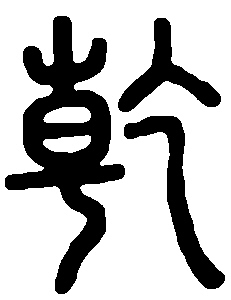 Hexagram 1. QIAN Heaven9
All day rising in the heavens; at night obstructed. [excerpt from line 3]
---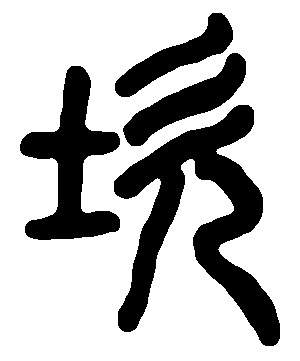 Hexagram 29. KAN Pit
Coming to the pit, the pit was steep and deep. Enter the pitfall. Do not act. [line 3]

Flasks of wine, tureens in twos of earthenware, presented together following the lead. No misfortune in the end. [line 4]

The pit is not full, but the Earth Spirit is placated. No misfortune. [line 5]
---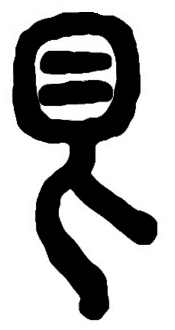 Hexagram 52. GEN Oppose10
Injure the back, and not get the body. Walk in the yard, and not see the man. No misfortune. [judgment text]

Injure the calves, and not gain submission. His heart is unsatisfied. [line 2]
---